Beckett Bronze produces cast bronze precision-machined parts and continuous cast bars. Castings are manufactured at the East 20th Street plant. The West 23rd Street plant produces finished machined parts and has about 75 machine tools including CNC lathes.
---
Copper's enjoyed its best quarter in nearly a decade, backed by a demand recovery in top consumer China that's set to stretch supplies just as the Covid-19 pandemic threatens output in key producer Chile.
The bellwether metal rebounded from a more-than-three-year low in March, entered a bull market this month, and extended gains to $6,000 a ton for the first time since January. Prices are rallying as Chile's miners grapple with a virus outbreak that's slowed output. Meanwhile, China's post-virus recovery is drawing down global stockpiles and fueling bullish investor sentiment.
Here are four charts that showcase copper's remarkable comeback, and suggest that the rally may yet have room to run. Prices will trade above $6,000 a ton in the fourth quarter, according to Morgan Stanley, citing better-than-expected demand in China and "severe" mine disruption.
As the month, quarter and half neared an end on Tuesday, copper traded as much as 0.9% higher at $6,016.50 a ton on the London Metal Exchange. Backed by the metal's gain and a global equity rally, miners have seen vast gains this quarter, with Freeport-McMoRan Inc. up 64% and Antofagasta Plc up 21%.
Roaring Right Back
The supply-and-demand double whammy has stoked a 21% rally this quarter that outstrips the performance of most other materials. Over the same period, the Bloomberg Commodity Index has risen less than 4%.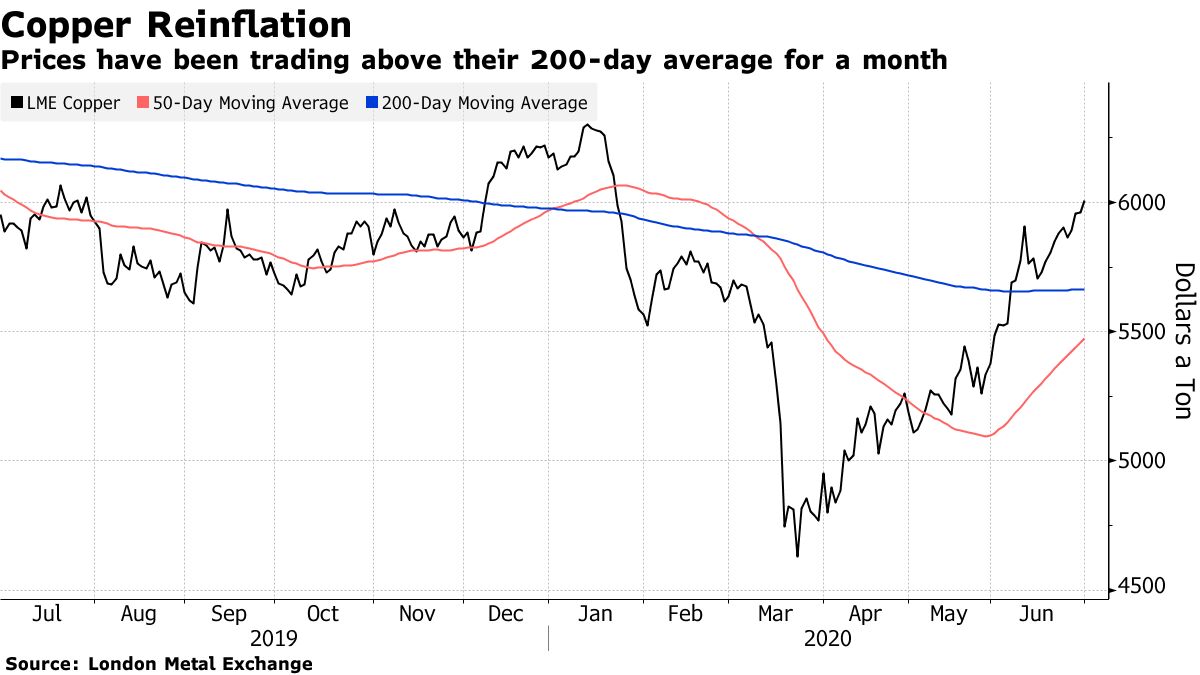 The metal's 50-day moving average has climbed back above its 100-day counterpart on the LME and it's on course to top the 200-day marker in July. That pattern is often seen as a precursor to further gains.
Getting a Shock
The spread of coronavirus in Chile has an outsized impact on the copper market because the nation's mines churn out a large chunk of global supply. State-owned Codelco switched to a 14-day rotating shift at El Teniente, and shut a smelter at another key operation. That will make it more difficult for Chinese buyers to get the copper they need.
"The disruptions to copper concentrate mining due to Covid-19 will be felt by Chinese smelters until at least the third quarter, and refined copper output will remain subdued," said Zhu Yi, an analyst at Bloomberg Intelligence.
Raiding the Shed
Global copper holdings tracked by exchanges in London, New York and Shanghai have shrunk more than 35% this quarter as China's recovery spurred buyers to seek supplies. The overall volume is now lower than a year ago.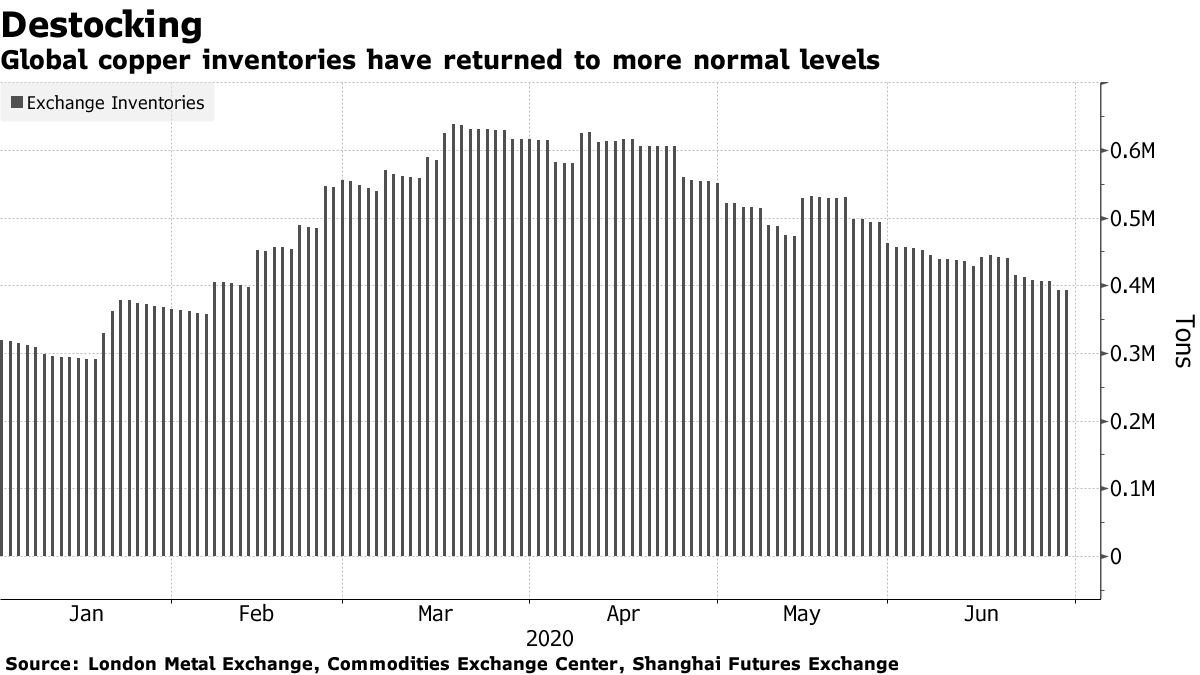 In China, exchange-tracked holdings have dropped every month this quarter, sinking below 100,000 tons to the lowest since January 2019. On the LME, orders to remove metal have surged since mid-May.
Cutting the Shorts
Even as a new wave of coronavirus infections threatens the U.S. recovery, copper investors are fixated on copper's Chile-China dynamic. Hedge funds and other large speculators cut their bearish bets on copper futures and options to the lowest since early 2018, according to data from the Comex.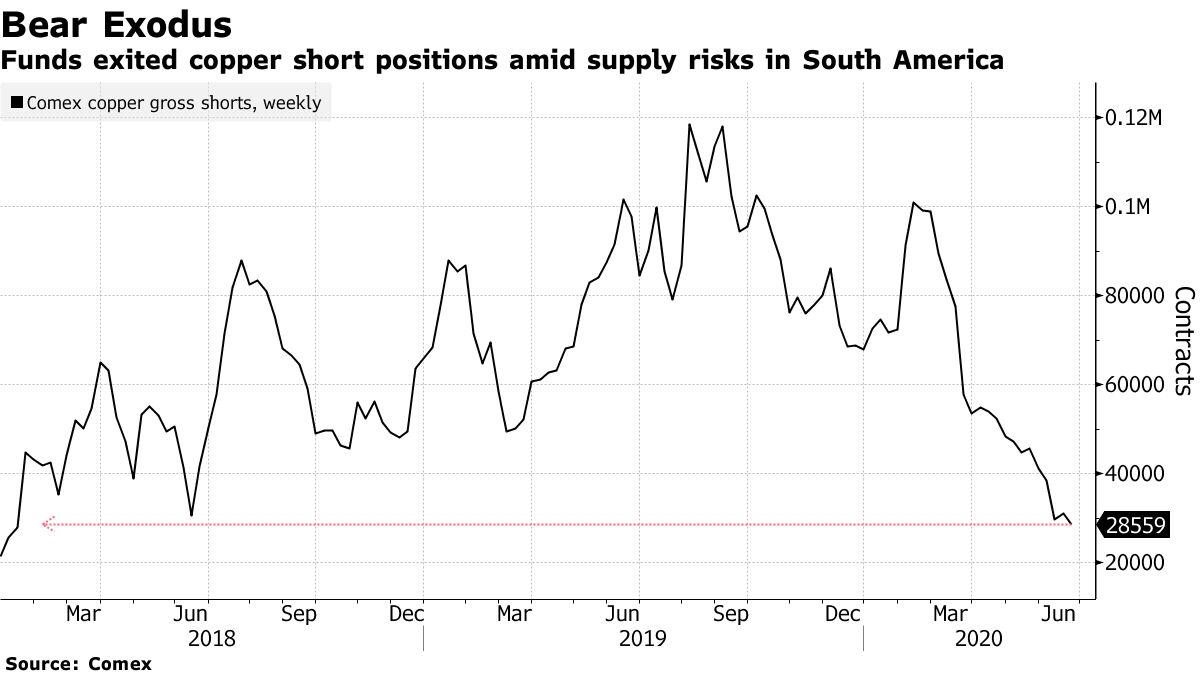 And in China, top futures brokers have also scaled back their net short copper positions on the Shanghai Futures Exchange. Net positioning was bearish by the slimmest margin since June 2018.
— With assistance by Martin Ritchie, Winnie Zhu, and Yvonne Yue Li
---
Over 100 Years Experience – Manufacturers of Bronze Bearings, Bushings, and Continuous Cast Bars Since 1913