Beckett Bronze manufactures bronze bearings, bronze bushings, and bronze bars. Custom made cast bronze bearings, bushings, and bars are made from over 50 alloys in our own foundry.
---
Last week, the price of copper exploded to the upside. On May 30 the red metal was trading at a low of $3.01 per pound on the nearby July COMEX futures contract which was close to the March 26 low, and level of critical technical support at $2.9585 per pound. Meanwhile, over the next eight trading sessions, the price of the industrial metal that is often a barometer for the entire commodities asset class took off rising to a high of $3.3155 per pound on June 7, and closing at the $3.30 level at the end of last week. Critical technical resistance in the copper futures market stands at the December 2017 high at $3.3220 per pound on the continuous futures contract. Above that price, copper will move to a new level and the highest price since early 2014. There is currently a lot of conjecture about the cause for the rally in the red metal. Some are pointing to a pending strike at the world's largest producer in Chile while others believe that a dominant market participant controls a large percentage of the LME and COMEX inventories. However, copper has been in a bullish mode for the past two and one-half years, and after six months of price consolidation, it may just be ready to move to a new and higher level on the upside.
Copper has been in a bull market since early 2016
The price of copper on the COMEX futures market rose to its all-time peak in February 2011 at $4.6495 per pound. A corrective period then took the price to lows of $1.0355 in January 2016.

Source: CQG
As the weekly chart highlights, the red metal has been moving progressively higher over the past two and one-half years, reaching its most recent high at $3.3220 during the final month of 2017. Copper has been making higher highs and higher lows since the first month of 2016. During the course of the rally, the price has not once declined below a level of previous technical support. Copper has not moved to the upside in a straight line, there have been long periods of price consolidation between the higher highs. After almost six months of the latest period of consolidation where COMEX copper futures have traded between $2.9460 and $3.3220 per pound, it appears that the red metal is now ready to move to a new high soon. During the past six months, critical technical support for the copper market was at the December 2017 lows, and the price of the nearby futures contract never violated that level which was at $2.9205 per pound.
A strike at Escondida looms large
COMEX copper futures closed last week at the $3.30 per pound level on the July futures contract. The three-month LME price was over $7000 per ton, the official settlement price on Friday, June 8, was at $7266 per ton.
Escondida is the world's largest copper producing property in the copper-rich country of Chile. Last year, workers at Escondida which is operated by one of the world's leading copper producing companies, BHP, went on strike for a total of 44 days removing 156,000 metric tons of output from the market. One of the primary reasons for copper's move to the upside last week was negotiations between workers at Escondida and BHP. In the latest letter to workers at the world's largest copper mine, the union said BHP promised to respond to its recent proposal for a new contract on Monday afternoon local time in Chile. The union asked BHP for a 5 percent increase in salaries and a one-time bonus that is the equivalent of four percent of dividends distributed to shareholders in 2017, which amounts to around $34,000 per worker. The 2017 strike cost BHP around $1 billion in lost production. BHP responded that it is ready to discuss "different points of interest" at the negotiating table on Monday. BHP hopes to reach an agreement, but the new round of talks could last for the coming month, or longer.
Formal negotiations between the union and BHP are set to begin in July, a strike or tense negotiations could cause the price of copper to move to the upside given the current states of the global economy and rising demand for the red metal around the world. The union is optimistic that it can reach a deal with BHP, but the market is concerned that talks could break down tightening the supply situation in the copper market which would send the price higher.
Reduction in Chinese output
China is the world's leading copper consumer as it continues to build infrastructure in the most populous nation on earth that has GDP growth of around 6.5%. At last October's party congress in Beijing, President Xi rolled out long-term plans for China which included a program to reduce pollution near the country's most populous cities. To cut the thick smog that had enveloped cities like Beijing, Shanghai, and many others, the government imposed restrictions on refining and smelting activities that add toxins to the air. While the program will result in less copper and metals output, China continues to require an ever-increasing amount each year to satisfy domestic demand. Therefore, copper imports are likely to rise in China and other Asian nations as the economic conditions continue to improve. Meanwhile, the price of oil has moved from $42.05 per barrel in late June 2017 to its recent high of $72.90 on NYMEX futures and $80.50 per barrel on the nearby Brent futures contract. While the price declined to under the $66 level at the end of last week on WTI futures, it remains appreciably higher than last year at this time. Higher energy costs increase the cost of producing copper and many other industrial metals as mining, smelting, and refining is an energy-intensive process. The higher output costs can lead to higher prices for copper and many other ferrous and nonferrous metals. At the same time, the future for copper demand continues to look bright as renewables require lots of the red metal.
When it comes to the tariffs issue, an all-out trade war could choke the U.S. and Chinese economies as many input costs would likely skyrocket as a result of duties that would weigh on global growth. However, most market participants are betting that trade deals and not a trade war result from the current tense period of negotiations and the recent trajectory of the red metal is a sign that Doctor Copper projects that deals will eventually keep the global economy chugging along.
Stocks high – there is always a potential for monkey business
LME stockpiles of copper have been highly volatile over recent months.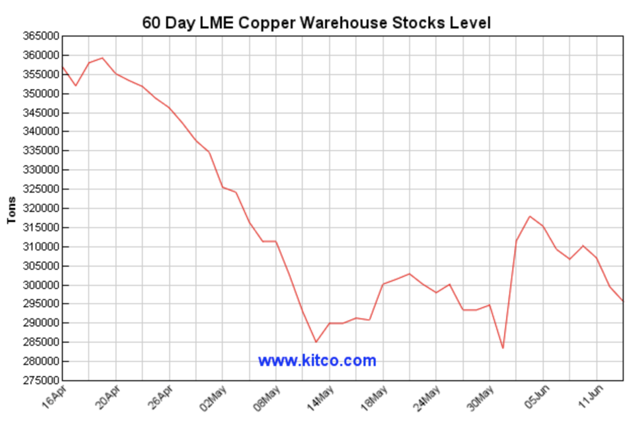 Source: Kitco/LME
As the chart shows, copper stocks on the London Metals Exchange exploded higher from under 200,000 metric tons in late 2017 to a high of 388,000 tons in late March. Since then the inventory has dropped to around the 300,000 level and was at 295,715 tons as of June 12.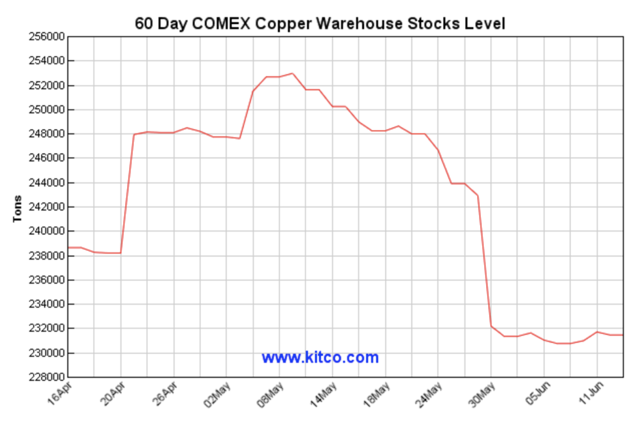 Source: Kitco/COMEX
Meanwhile, inventories of copper in COMEX warehouses declined from around 253,000 tons to 231,000 since early May, and last week the Shanghai futures exchange reported that copper in its warehouse had dropped from 272,254 to 256,030 tons over the past week.
I always look at the copper inventory data with a grain of salt as dominant traders and consumers in the market can tamper with the mechanism and move inventory into and out of exchange warehouses quickly to create an illusion of oversupply or undersupply conditions. This type of monkey business has been going on for decades at the London Metals Exchange, and since the Chinese have been in control with their purchase in 2013, there is little doubt that stock numbers are subject to significant massaging and manipulation. However, recent events have created a potent bullish cocktail for the price of the red metal. The potential for a strike at the world's leading copper mine, global economic growth, optimism over eventual trade deals, and increasing demand for copper with decreasing domestic smelting and refining in China all add up to a compelling case of another new high in the red metal.
Copper is following a technical path
Last week, July COMEX copper futures traded to a high of $3.3155 per pound, only 0.65 cents below the December 2017 peak.

Source: CQG
As the monthly chart illustrates, the next level of technical resistance above last year's high stands at $3.4445 per pound dating back to December 2013. Above there, there is price congestion between $3.80 and $4.00 per pound which could be a target if the copper market begins to lose output from Escondida in the case of a prolonged labor dispute. Copper has been in a bull market since early 2016, and the current signs are pointing higher in a continuation of the rally.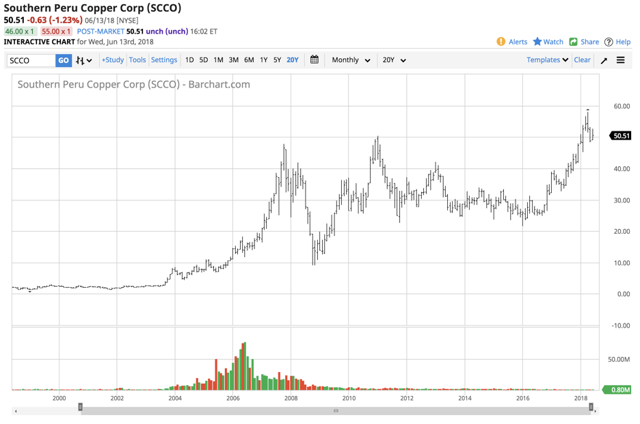 Source: Barchart
Southern Copper Corporation (NYSE:SCCO) is one of the purest plays when it comes to copper mining stocks. As the chart shows, the stock recently hit its all-time high at $58.09 per share in April of this year and was trading at the $51.51 per share level on Wednesday June 13, despite a rate hike from the Fed and their announcement that they will increase the Fed Funds rate four times in 2018 adding an additional hike. SCCO has a market cap of $39.046 billion and trades an average of around 970,000 shares each day while paying a dividend of 2.32%. The rise in the price of the red metal is a reflection of economic growth as well as concerns over future production from the world's largest mine. If copper is about to move to a new level on the upside, expect SCCO to go along for the bullish ride.
The Hecht Commodity Report is one of the most comprehensive commodities reports available today from the #2 ranked author in both commodities and precious metals. My weekly report covers the market movements of 20 different commodities and provides bullish, bearish and neutral calls; directional trading recommendations, and actionable ideas for traders. More than 120 subscribers are deriving real value from the Hecht Commodity Report.
Disclosure:I/we have no positions in any stocks mentioned, and no plans to initiate any positions within the next 72 hours.
I wrote this article myself, and it expresses my own opinions. I am not receiving compensation for it (other than from Seeking Alpha). I have no business relationship with any company whose stock is mentioned in this article.
Additional disclosure: The author always has positions in commodities markets in futures, options, ETF/ETN products, and commodity equities. These long and short positions tend to change on an intraday basis.
---
Over 100 Years Experience – Manufacturers of Bronze Bearings, Bushings, and Continuous Cast Bars Since 1913